During this deep humanitarian crisis, as much as the partial lockdown will help to curb the spread of #Coronavirus, we also know how extremely it shall impact the world economy!
96 hours since the announcement, our team at BEYOND99 worked straight to provide a learning experience enriching the one sitting at home by introducing —
A Truly Virtual Talk Show on #LinkedinLIVE - Linkedinpreneur Stories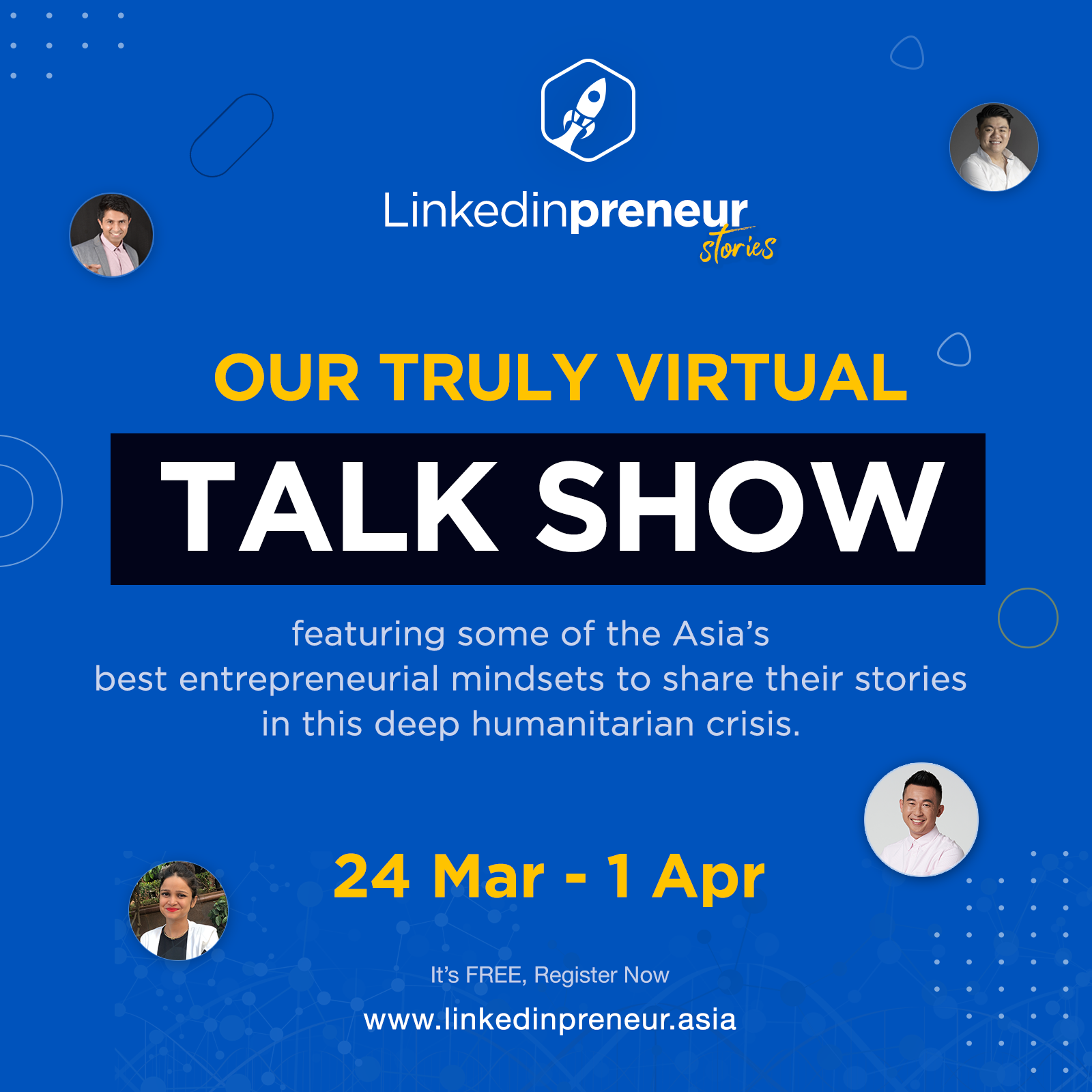 COVID19 is first and foremost, a global humanitarian challenge and has been emotionally challenging for many people, changing day-to-day life in unprecedented ways and each organization is trying to manage this in their own ways.
Some are engaging customers digitally, some are using online platforms for collaborating with their teams who are working from home & some of them are taking this opportunity to upskill their employees.
What sparked the thought to do a Virtual Talk Show!
Khushboo Nangalia, our Founder & CEO said "We knew growing together is always more fun than alone!" and shared with us they are facing the similar challenges as other businesses at this critical hour too and hence wanted to leverage the forced lockdown as an opportunity to give back to society in our own way.
Chetan Bharadwaj, Co-Founder of BEYOND99 further added – "We felt the urgency of it especially at this time when all we need is a little spark of hope and inspiration. The concept was curated over the weekend and brought into life within 54hrs on the principle of 'Sharing is Caring'..."What's Linkedinpreneur Stories
What is Linkedinpreneur Stories?
Linkedinpreneur Stories is a content-based community sharing concept featuring some of Asia's best entrepreneurial mindsets who will share their stories in this deep humanitarian crisis thus making you a little more knowledgeable, smarter and powerful to combat the business slowdown once you are back to your respective workplaces.
The First Edition of Linkedinpreneur Stories starred 9 different speakers from 4 different countries across Asia between 24 Mar - 1 Apr, 2020 – live every day at 830pm MYT/SGT, 6pm IST, 1230pm GMT. The live show witnessed more than 50K views from across 20+ countries with great user engagement on the Linkedin LIVE platform.
And for you, if weren't able to witness live we are going to share a snap view and the entire replay to each session on Edition-1 is at http://www.linkedinpreneur.asia/stories-edition-1
Speaker & Episode Insights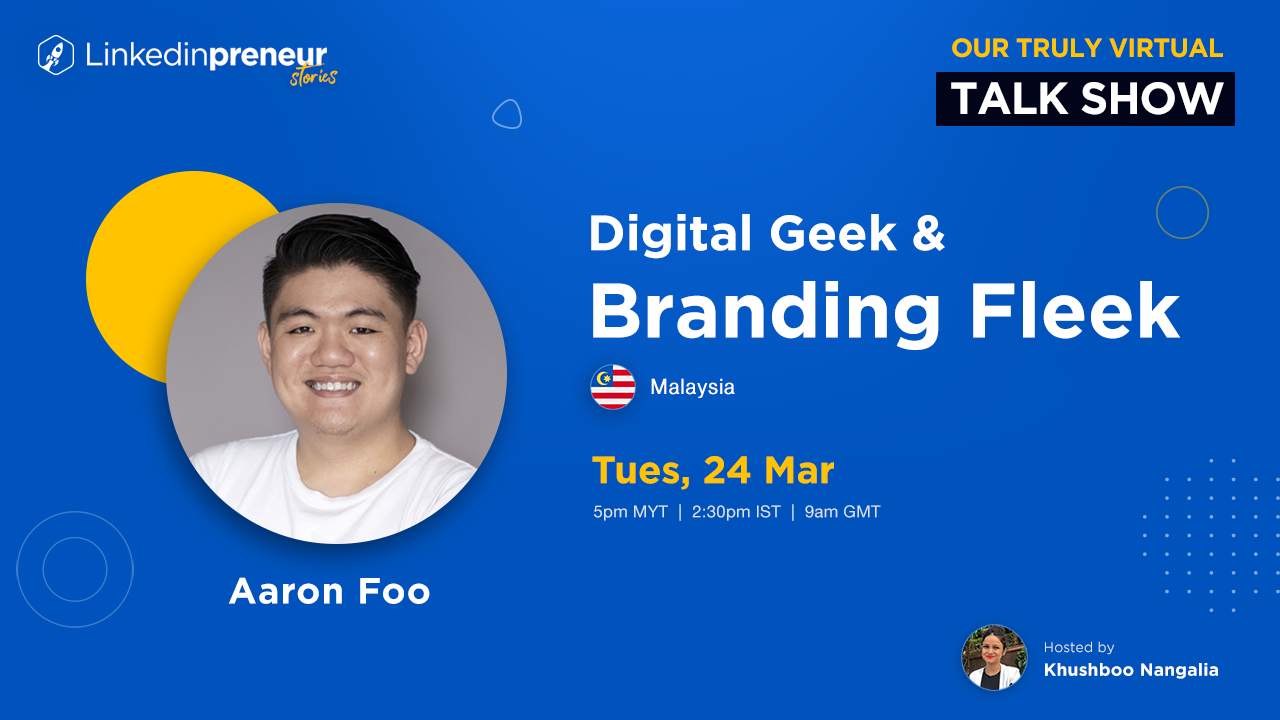 Episode-1
Aaron Foo - Head of Product Strategy at iCarAsia
(Malaysia)
Topic: Learning Branding Strategies from Digital Geek and Branding Fleek
Aaron Foo from Malaysia, who is the head of the product strategy, iCarAsia, a digital enthusiast and also an author. As a Digital Geek and Branding Fleek, he shared some of his tips on how to maintain and balance corporate life along with personal life during this COVID-19 and also how to be productive without going out from home. He also spoke about how much this global pandemic is affecting businesses throughout the world and also discussed some of the brand strategies and the impact of digital platforms in today's world.
It's not a tough situation, it's the tough people who survive in a tough situation.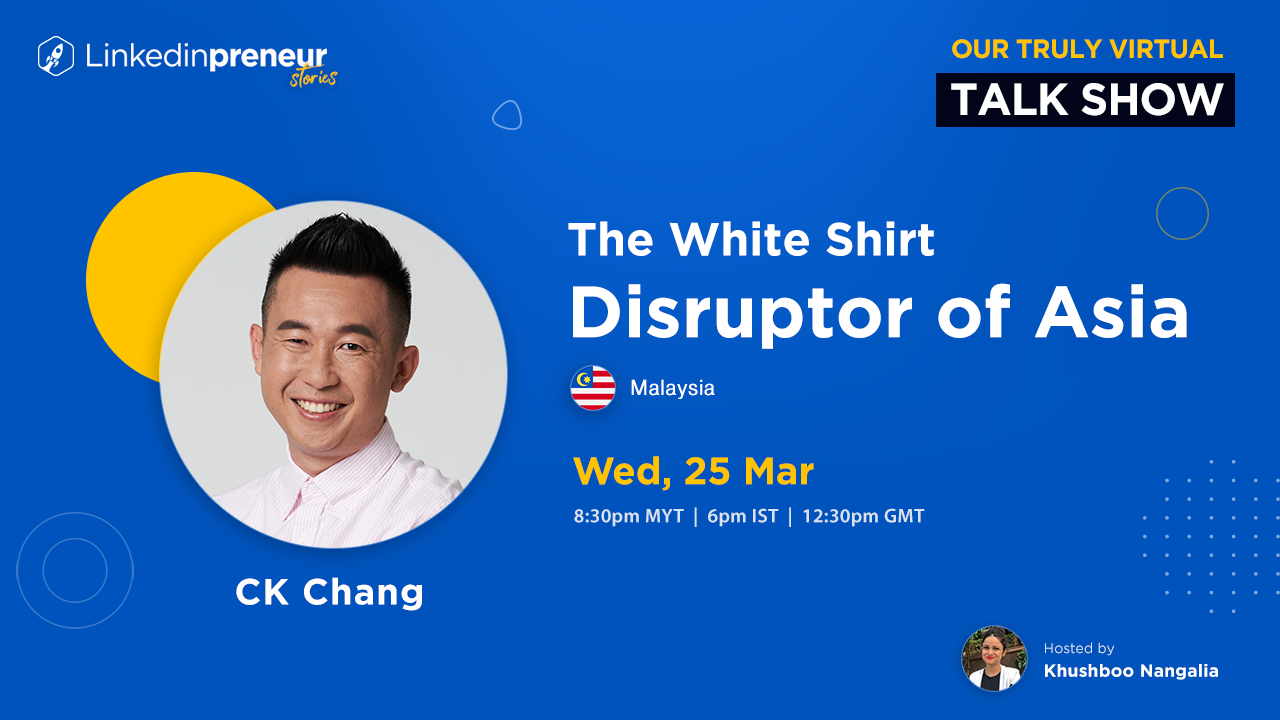 Episode-2
CK Chang - Founder of OxWhite
(Malaysia)
Topic: How Oxwhite sold 6,000 Shirts in just 6hours of their launch
CK Chang - The White Shirt Disruptor of Asia. He shared his ideas, experience, and How exactly did he sell his 6000 Shirts in just 6 hours on his launching day or from where did he exactly get the idea of the iron-free shirt and why are these so rare and have to pre-order to get your hands on one shirt. He also shared some of his valuable thoughts on the COVID-19 situation and the impact that it will leave on our economy and lives and what exactly we need to do to make our business keep rolling in the market even in this crisis.
Do not ever get fulfilled for what you have had achieved rather keep working hard to overcome your upcoming challenges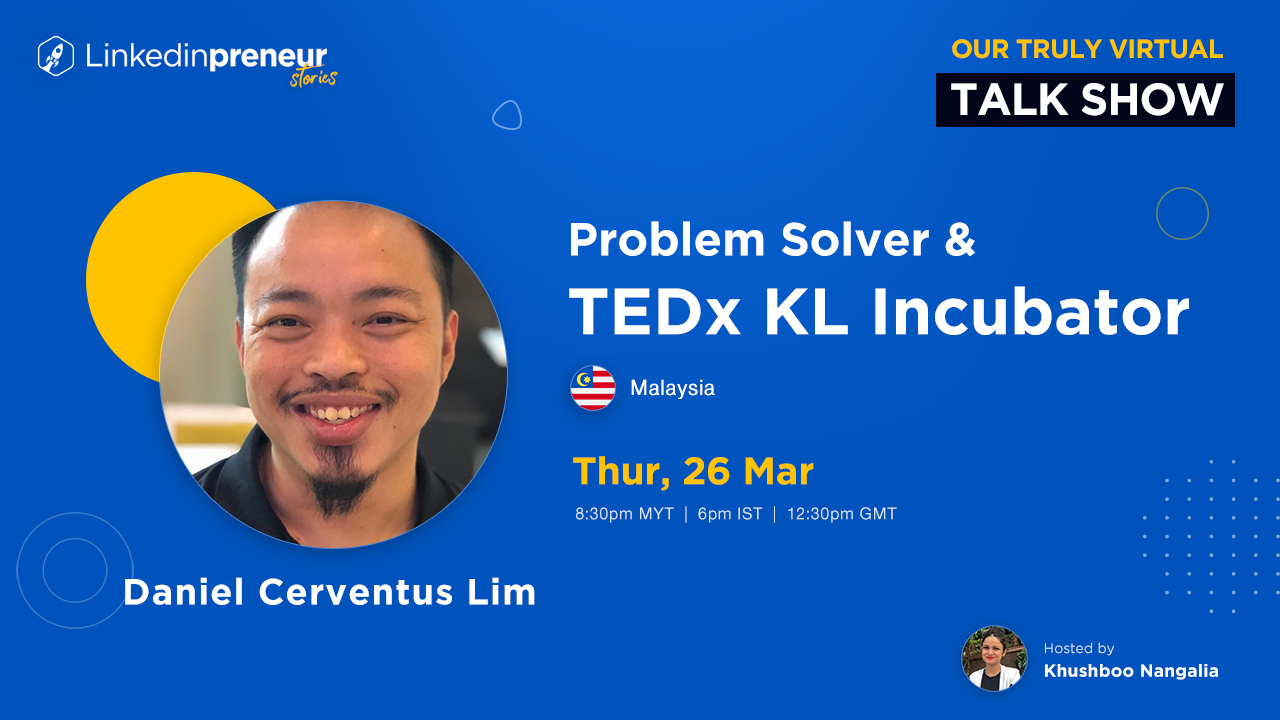 Episode-3
Daniel Cerventus Lim - Founder at NextUpAsia and TEDxKL
(Malaysia)
Topic: Journey of founding the largest TEDx in the world
Daniel Cerventus Lim - Founder at NextUpAsia and TEDxKL organising one of the largest TEDx in the world with 4500 attendees. He has the mindset to use this platform to highlight talented individuals with amazing ideas and doing remarkable stuff. During this global pandemic, Daniel has built an organisation to help fight COVID-19 by assisting the front-liner in supplies. He shared with us his thoughts on this pandemic along with how exactly the idea of TEDx popped in his head and how he became the founder of NextUpAsia. He also shared his experience of building a frontline organisation to help hospitals with foods and supplies and many more.
You cannot satisfy everyone, the only thing that can be done is to take the feedback and work on it.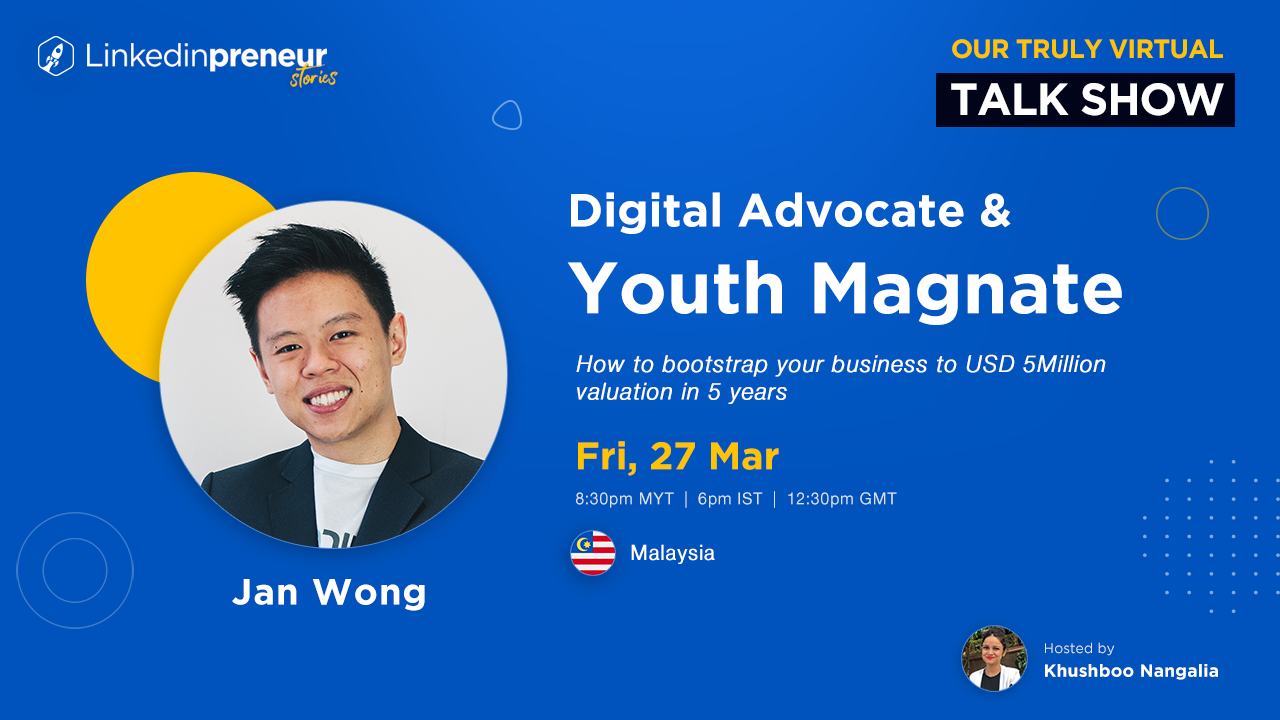 Episode-4
Jan Wong - Founder of OpenMinds Resources
(Malaysia)
Topic: How to Bootstrap your Business to 5 Million in 5 Years
Jan Wong - Founder of Open Minds, TEDx Speaker, an Entrepreneur, Youth advocate and also Forbes 30 under 30. He is an expert in bootstrapping and has bootstrap his business to USD 5 Million valuations in just 5 years. In initial days he did face a lot of hurdles but with his immense effort and a great team he overcame the challenges and now he can proudly say He is the founder of OpenMinds. He shared with us his thoughts on How COVID has exactly impacted his life as well as his business, alongside his journey in OpenMinds and how did he manage to make it successful?
Finding the right talent is the combination of a few things, the most important among them is the Foundation of the company, Brand positioning in the market, and the Culture of the company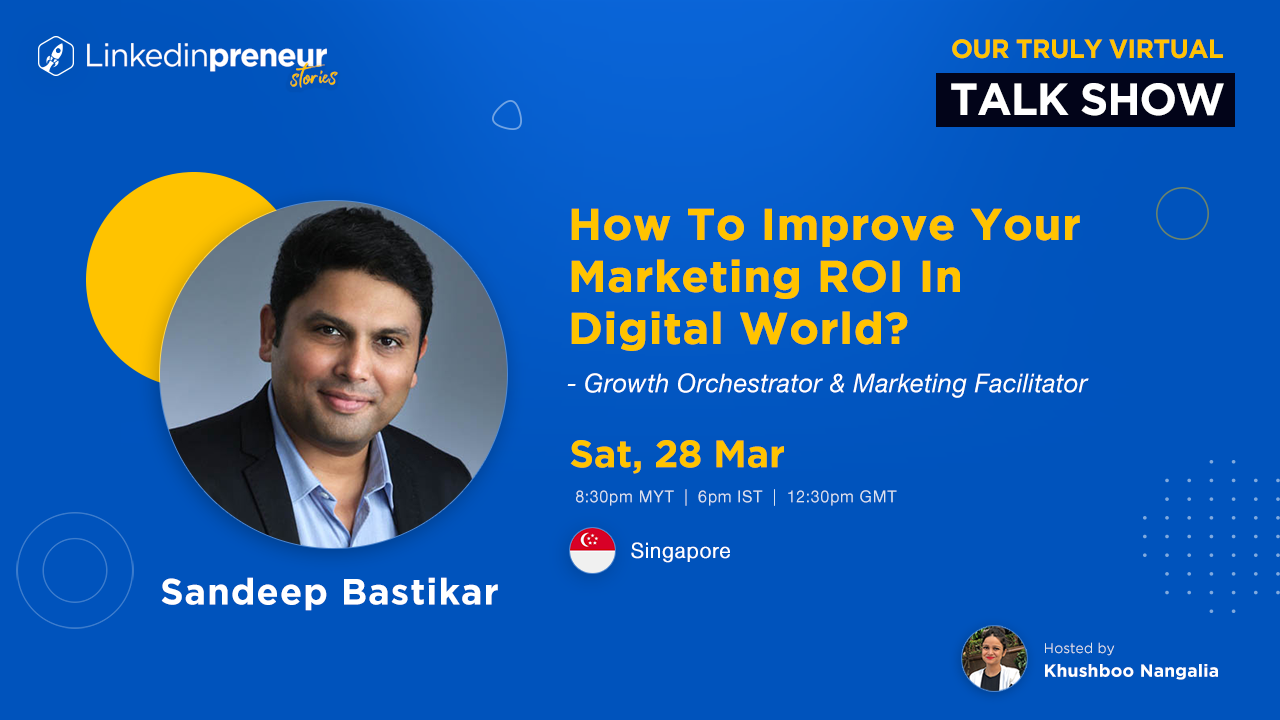 Episode-5
Sandeep Bastikar - Digital & Performance Marketing Evangelist
(Singapore)
Topic: How to improve your Marketing ROI in Digital World?
Sandeep Bastikar - Growth Orchestrator & Marketing Facilitator. He is a results-driven digital marketing professional with a consistent track record of increasing sales and market share. He shared the in-depth knowledge of ROI and why it is important for businesses. He also shared his views on why ROI is not just the monetary aspect, it is about how you portray your message, how effectively you communicate with your audience and many more.
In the rush to return to normal, you could use this time to consider which part of normal is worth rushing back to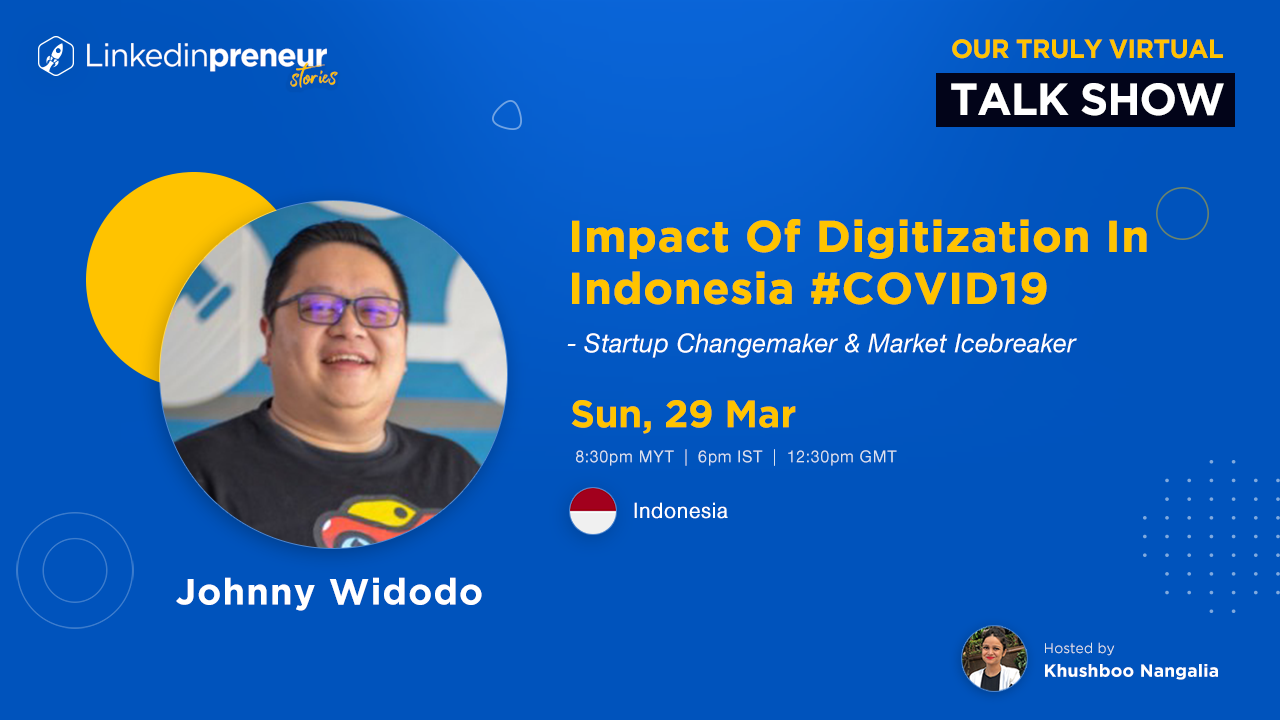 Episode-6
Johnny Widodo - CEO at BeliMobilGue
(Indonesia)
Topic: How Johnny turned OVO into one of the largest digital payment platforms in Indonesia less than 2 years
Johnny Widodo - CEO of BeliMobilGue.co.id, FCG SEA. He is a Coach and Public speaker across national and regional seminars, universities, and media on Fintech, Automotive, digitalization, Millennials, and leadership. He shared his thoughts on how exactly Digitalisation has impacted Indonesia over the past few years from not having many companies to now being one of the countries having most Unicorns and Decathlon startups in the world.
There's nothing you can do. If you have the mindset and skills, be humble learn from others, and you will strive to be a leader
Episode-7
Naveen Kumar - Founder and Chairman of Nityo Infotech
(Singapore)
Topic: Driving Transformation in Unprecedented Times
Naveen Kumar - Founder and Chairman of Nityo Infotech. Nityo Infotech has 27 offices around the world to manage their clientele present in 23 different countries, which includes fortune 1000 and fortune 2000 countries. He shared his principles, beliefs and what's the true value of having strong employees means to him. Well, he also talked about the COVID situation and how should one always stay prepared if anything happens like this in the future and how to stay strong and focused.
You can't wake a person who is pretending to sleep, you can wake up a person who is actually sleeping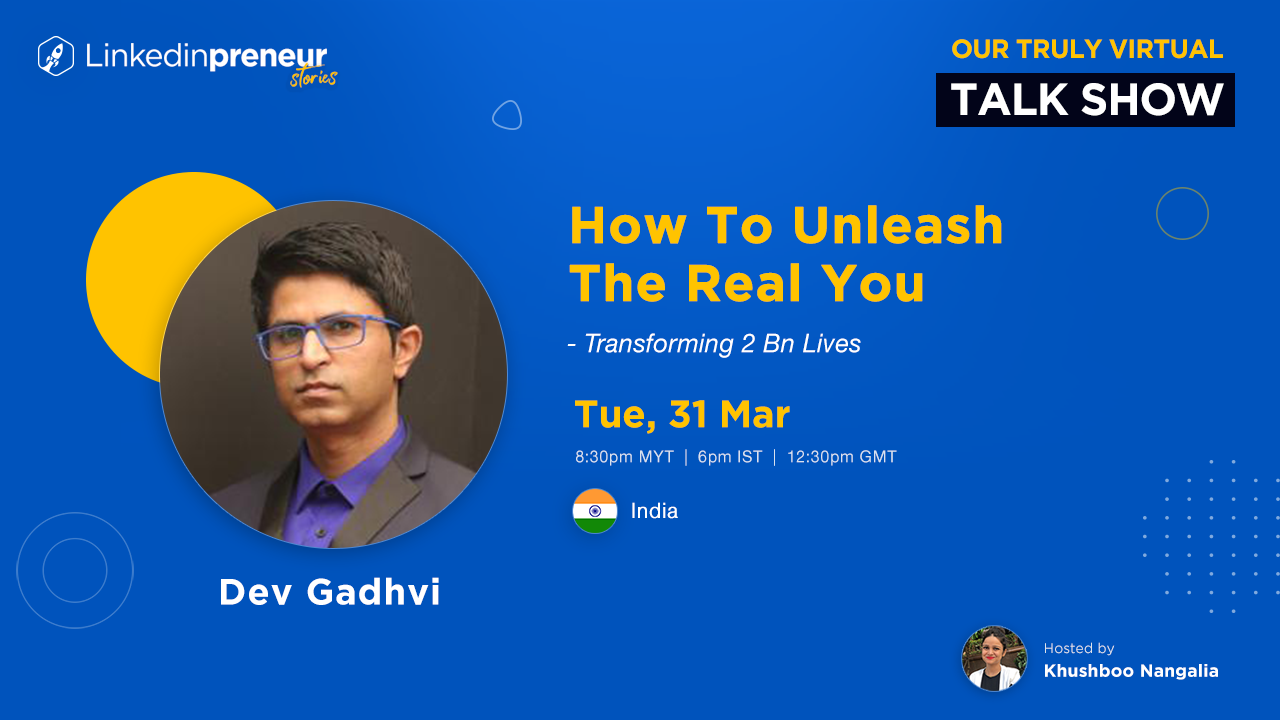 Episode-8
Dev Gandhi - No.1 Passionpreneur Mentor
(India)
Topic: How to Unleash the Real YOU !!
Dev Gadhvi - Founder and CEO of Passionpreneur Mastermind Mentorship Program & Co-founder of 1 Crore Coach and also one of the well-known figures in the Indian Business world. one of the well-known figures in the Indian Business world. He is also a TEDx speaker, an author, and also India's top high ticket sales expert. He shared how his journey from being a truck driver's son to India's No 1 Passionpreneur. He is here to inspire the youth and also talk about how to be motivated and polish your skills to be a better YOU.
The Universe does not give you what you want, the Universe gives you what you deserve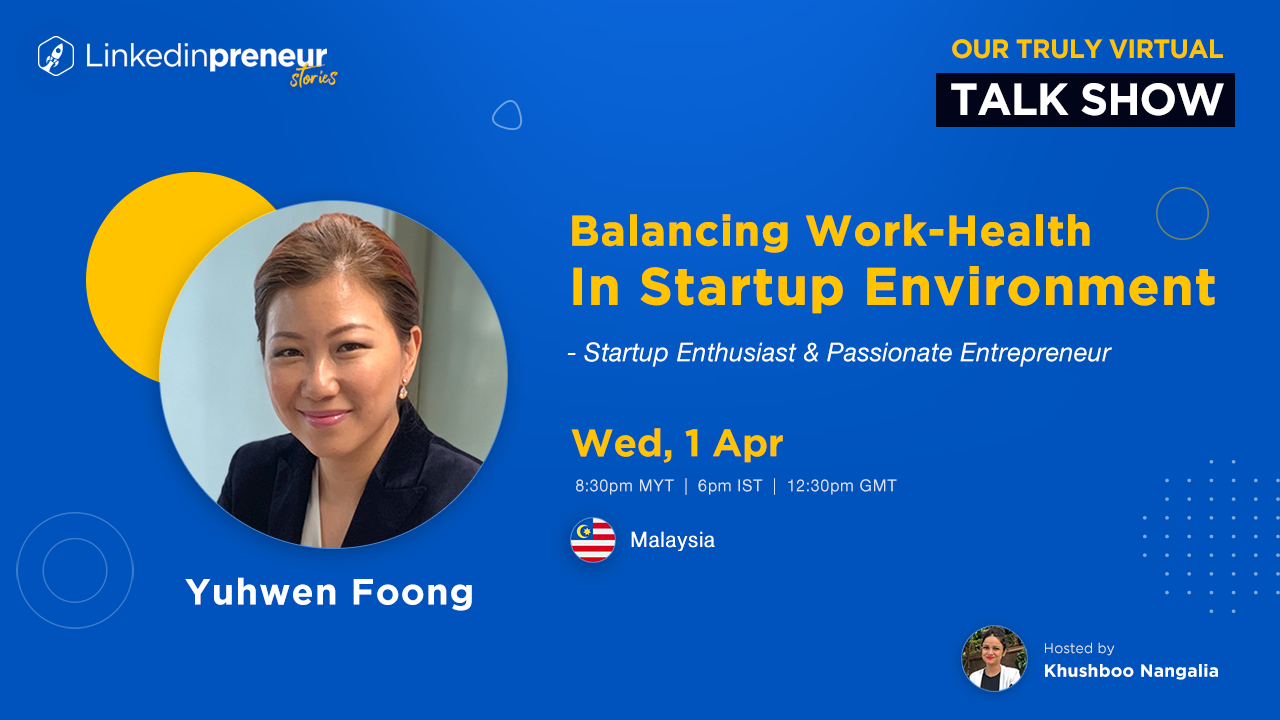 Episode-9
Yuhwen Foong - Founder of Sushivid
(Malaysia)
Topic: Startup Enthusiast & Passionate Entrepreneur
Yuhwen Foong - Founder of SushiVid, ASEAN leading influencer marketing company. She produced over 11000 branded content for brands across Southeast Asia for over 1500 brands. She shared with us how to manage a proper balance on Work-Health in the Startup Environment. She also shared her own personal health issues that she is dealing with and how she is managing to keep up with her health and also run such a huge company.
Find what you're good at and then work on it to bring the most out of it
Segments & Takeaways
Some regular Segments:
Rapid Fire: This segment includes a rapid-fire Q & A with our host Khushboo Nangalia asking each guest a set of similar questions about their favorite books, life mentor, favorite shows and many more. Guests are encouraged to speak their minds and make the answers super quick.
Choose one: This segment allows our guests to choose one word among the two that our host will ask them. Guests need to be candid and quick with their answers. Basically it's like picking a favorite among two.
Speak your mind: In this segment, our host will be throwing one word to the guests and whatever word pops up in their mind first, has to be said out loud. The guest cannot take more time or cannot think much in this segment. It needs to be quick and spontaneous.
From this edition, you will learn
How to deal with your business and improve your marketing strategy during the COVID-19 situation?
How to be prepared in advance if any such situation occurs?
How to use the Digital Platform and show your marketing strategy online and spread awareness?
What should be your key motives as a startup entrepreneur and follow the right direction of success?
Importance of Bootstrapping and how to utilize it in your business?
How is Linkedin a platform for entrepreneurs, startups, founders and businessmen for business growth and job opportunities?
Closing Note
The first edition seemed to be a hit and got a huge response from everywhere. The repeat editions are planned to roll out once every 3 months then due to overwhelming response and extension of MCO in Malaysia we plan to launch the Edition-1.2 very soon in the latter part of last week of April again!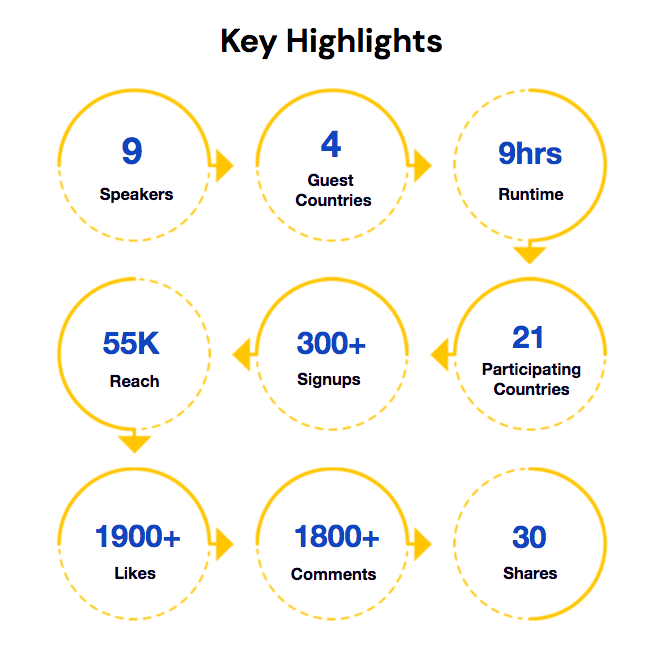 And we look forward to the Linkedinpreneur Stories Edition-1.2 and more great lessons to learn from the best in the industry in this unprecedented time. Are you excited?
If you missed the Linkedinpreneur Stories (Edition-1) head on