The debate on whether digital marketing is overthrowing or taking place of traditional marketing is a huge talk over the last couple of years. Over the last few years, traditional marketing has fallen in every possible way and Internet Marketing has taken place.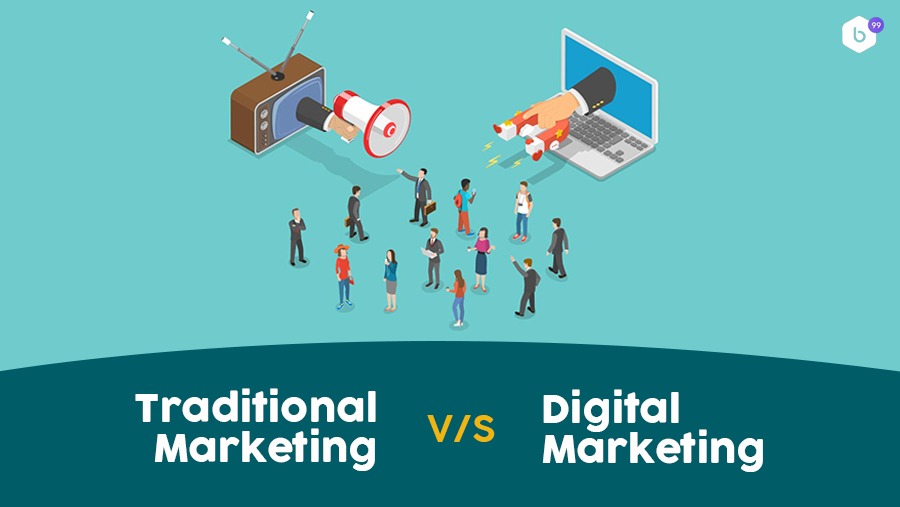 Marketing is an important aspect of business that is hard to ignore. To improve any business the first thing is to set a proper marketing strategy and know-how to execute it. In today's world, the maximum of the population does their research or transactions through the online medium but we can not ignore that another part of the population does not even know the use of the internet. Hence it is difficult to pick one particular medium of marketing.
What is Traditional Marketing?
Traditional Marketing refers to that kind of marketing where companies use old school methods to market their product and services. These methods have been used since the time advertisement and marketing were introduced.
Some of the common methods are:
Television
Newspaper
Radio
Banner or Hoardings
Magazines
What is Digital Marketing?
Digital Marketing refers to that kind of marketing that involves electronic devices and the internet. Organizations influence digital channels, for search engines, social media, email, and different sites to connect with present and imminent clients.
Some common platforms which are used for digital marketing are:
Social Media which includes Facebook, Twitter, Instagram, Linkedin
Email Marketing
Paid Promotion ads
Blogs
Search Engine Marketing
Online Marketing has become more adaptable and has taken a large part. Well, one can say all the types are quite similar in their own place. Now that we know what traditional and online marketing is, let's have a look and find out which one is better?

Difference between Digital Marketing and Conventional marketing
1. Advertising v/s Value - The primary difference between digital marketing and traditional marketing is that many digital marketers target to provide value to their audience by using content marketing and other sources. Traditional marketers always look for increasing sales with their ad spots and forget to provide value to it.
For example, digital marketer looks at what their target audience loves and prefer and provides services accordingly, whereas traditional marketer cannot analyze their target audience, therefore, their major focus stays on selling products rather than delivering value.
2. Cost - Digital Marketing is quite affordable compared to traditional marketing. The cost of advertising in the newspaper, television is higher than advertising online which is much affordable.
3. Real-time result - Digital marketing has an impact over traditional advertising since it can give speedy outcomes while traditional marketing makes you wait for long before showing any result. With online marketing, you can easily view a number of visitors, conventional rate and many more easily.
4. Brand Development - Talking about Brand development among the two platforms, digital marketing gets an added advantage as in conventional marketing space and frequency play a major role as they are way less and expensive. While on the other hand In digital marketing there is no limit in space or frequency, you can easily own an entire website and run a proper ad to promote your brand or service with a little amount of money
5. Data-Driven - When buying an advertisement spot on radio or TV, you aren't given substantially information about the audience in the market. With internet marketing, focusing on details is different from traditional marketing. In online marketing, you can make an entire custom audience of individuals to reach, or make a group of people exclusively of individuals that have just visited your site. When promoting search engines like Google, you can target an audience on the basis of what your business is offerings.
6. Communication - It is much easier to communicate with the audience through a digital platform as the majority of the population spends their time on the internet. With the help of social media and search engine reviews, users can easily search their queries and can share their experiences instantly. With that being said, social media and email marketing are the two platforms of digital marketing that offer two-way communication, allowing for feedback and relationship building. Traditional marketing is completely one-way communication, focusing a product, event or service and leaving it at that.
With traditional advertising, it does become difficult to understand the return on investment (ROI). Internet marketing not just tracks your ROI, its analytic capacity offers you to understand how to improve it. Knowing what you spend, and what you get in return is the key factor of digital marketing v/s conventional advertising. Every day, more people are using the online platform for music, TV, film, and news, which raises the question -- is traditional advertising even worth it anymore?