What better time to anticipate what's going to happen in the digital industry for 2019, than now. Though we already know – Go Digital or Go Extinct! But that just the beginning of the story...
Midst that if you have a business for the last few years, and you've taken that one step to get it online but with no sales –
And wondering what's next – you got a chance to steer your actions right.
Coming together at the 'Let's Talk Kuala Lumpur Edition'.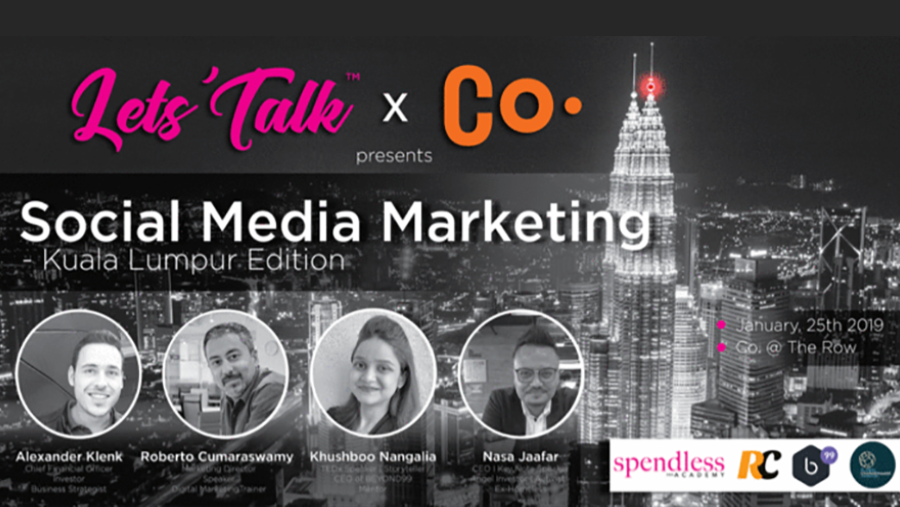 Discussing - Social Media Marketing best practices and hacks. And how we can leverage the changing trends and pace in the social media competition around us.
Join in the conversation with my fellow panellists Roberto Cumaraswamy, Nasa Jaafar, Alexander Klenk and the remarkable Leza Klenk (Parker)
Happening THIS Friday, 25 Jan at Co. @The Row (7 pm onwards)
Running out of seats soon!
---
Why Social Media?
In the last decade, social media have truly changed the way business works in acquiring customer and earning revenue. Believe it or not, they are an online e-commerce business making millions without even having a physical retail space. It gets even crazier, with suppliers providing dropshipping direct to clients, an online retailer only needs to market on social media in order to earn.
Companies as big as Lazada, Zalora, Flipkart have long used affiliate program where they engage individuals to promote their e-store on social media platform - the more the merrier. Tapping into an online network is extra beneficial than tapping on just your own. The reach is limitless, easy selection by country or age - targetting the right target audience is getting way easier!
But social media is not successful or effective for everyone!
We've underlined the benefits and you can easily read on the best practices, but yet people fail in building a great corporate brand, build communities, establish genuine relationships online and still NOT making money despite that investment of time each day being online!
It's not just about posting - it's what you post when you post, who you are posting it for!
In this upcoming #letstalk even, we are seeking expert help from Social Media Marketing consultants and trainers, who've helped many of their clients excel in corporate branding and social selling. If you have a business for the last year, have a Facebook page but no sales - then this is the course for you.
Do & Don'ts of Social Media Marketing
How do we plan, schedule and monitor effectiveness?
How to curate good content? How important is copyrighting?
Understanding algorithms of common platforms such as Linkedin, Facebook, Instagram.
So which social media is best for which kind of business?
Negativity and Positivity of Social Selling - bad reviews, exposure, brand management.
What is affiliate program, influencer management, marketing partners about?
Case Studies - experience sharing from each of the speakers.
What is #letstalk?
Unlike a typical event where you listen to a talk and ask questions, #letstalk aim to do more than that. Each question asked to the speaker is also open to the audience to share and give opinions about. Our experts lead the conversation, but this event is about you learning, sharing and networking. You are free to speak to share your case study and experiences, so every one of us, speakers included could benefit in learning.
Who should attend this discussion?
Entrepreneurs
Business Owners
Freelancers
Students
Speakers' Profile:
Khushboo Nangalia
Khushboo is an entrepreneur, award-winning marketer and CEO of BEYOND99 - a global digital growth agency based out of Malaysia, India & Canada.
A TEDx speaker and the youngest member of 'Top Voices Malaysia' (30 Most Influential People on LinkedIn) and 'National Association of Women Entrepreneurs in Malaysia' (NAWEM)
She started early at 17; with over a decade of experience now she's an expert in Business Storytelling & Millennial Marketing.
Loves working in deep partnership with ambitious brands – consulting them as an On-Demand CMO.
And is also a sought-after speaker, advisor to startups, guest lecturer at various Universities, marketing tastemaker and host of WomenofImpact show - empowering women leaders across the globe.
---
Nasa Jaafar
An Ipoh born, Malaysian Serial Entrepreneur and motivational speaker who turned his personal struggles into a motivational message for others. Considered to be the modern voice of inspiration, he is one of the most sought-after motivational speakers and human performance trainer in the corporate arena, sharing proven strategies of turning obstacles into opportunities.
He has garnered a breadth of experiences through hospitality, advertising, communications and sales over the past 15 years combined with several years worths of entrepreneurship exposure, Nasa now consults for several corporations, startups and social enterprises with the focus on impact driven initiatives.
---
Roberto Cumaraswamy
A passionate marketer with over 20 years of experience at a senior management level across a range of industries like Education, Telco, FMCG, Cosmetics & Beauty, Consulting and Start-ups. He builds and leads marketing teams to grow a business through the effective use of modern marketing strategies. On the side, he also acts as a speaker and trainer on marketing, digital & content marketing & personal branding.
He has extensive experience in the full marketing process – strategy, research, product development, pricing, sales distribution and merchandising, advertising, media, events, PR and digital/social marketing. Roberto was named as one of "Top 43 inspirational LinkedIn icons in Malaysia to follow" by Marketing In Asia online magazine (2018).