As we all know that Linkedin is a very powerful tool for like-minded people as well as job seekers. But Little did we know that it is also a highly valuable platform for Inbound Marketers. This is because the Ads platform on Linkedin is very powerful. It can connect your brand with the world's largest audience of active, influential professionals.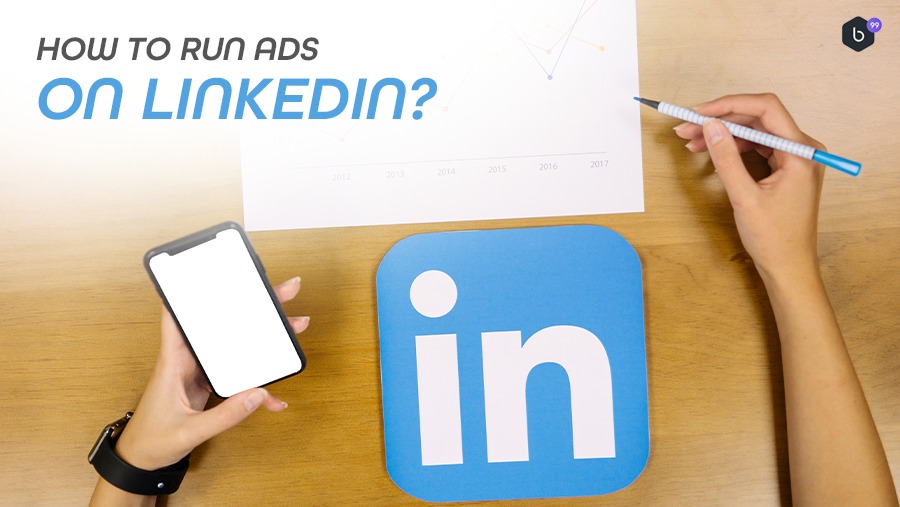 1. Setting up a Campaign - Firstly to begin with come up with a campaign group and name your campaign. The campaign group helps in summarizing your campaign. The campaign group name is only visible to you and will not be shown to others. So if you are running too many campaigns then make the name more precise and informative. After setting up a campaign name it is time to set up a campaign.
Setting up an objective - Setting up an objective is the primary thing as your objective is the thing that you need individuals to do when they see your ads. As per LinkedIn, picking a target encourages them to "modify your target creation, convey the best ROI for your expressed objective, and show you significant reporting."
There are 3 campaign themes and among them the campaign objectives are
- Website Visit, Engagement, Video Views, and Lead generations.
Target Audience - Setting up a target audience helps in specifying who we want our ads to be seen the more specific you are focused on criteria, the more applicable it's probably going to be for the audience you select — and, hence, better ROI. Then select the Language and the demography of your target audience to run your ads.
Education - If you are planning to target your audience on the basis of any particular education then you can target them based on school, universities. For instance, maybe you're attempting to focus on a specific graduated class affiliation — you can connect with it through a LinkedIn promotion. You can likewise modify the targeting as per the field of study and certificate.
Job Experience - If your target audience is for any specific job role or position then you can choose specific job titles or choose from job functions, seniority, and years of experience also. From the CEO of any company to the entry-level associates at an accounting firm, you can target a specific group of people for your ads.
2. Ads Format - Choosing your Ads Format is essential as it will help you to create your ads as a part of your campaign and run it. The type of ads format is as follows:
Text ads
Single image ads
Carousel ads
Video ads
Follower ads
Spotlight ads
Job ads
Message ads
At the point when you switch between the ads types, you'll see that the Forecasted Results box on the right-hand side will change. This feature will tell the campaign parameters (bid, budget, targeting, start/end dates, etc.) and considers simple campaigns and ads. If you are new then first deciding which ad type will be right for your budget.
Moreover, some advertisement types expect you to connect your LinkedIn Company Page, and some tap into LinkedIn services.
3. Budget and Schedule - Next setting up the budget, scheduling time and planning the bidding that can work best for the ads.
Budget - Before spending a lot of money into a campaign, first you need to understand and test the success of the campaign and the ad variation. For that, you need to Put up a daily budget for the campaign that would work best for your company's marketing spending. You don't want to put thousands of dollars into a campaign that would not work.
Schedule - Select a date and schedule your ads for the date you want your ad to start running. You can also set an end date for your ad to stop running.
Bidding - There are three types of bidding strategies that advertisers are willing to pay for each click on an advertisement.
Automated Bidding - This type of bidding helps Linkedin to understand what amount will maximize the campaign objective according to the options chosen ( Clicks, Impression or Conversion).
Maximum CPC ( Cost per Click) - This type of bidding will charge whenever there is a click in the ads. A bidding range will be suggested by Linkedin depending on the budget set and the competitors of the ads. If the current rate is lower than your max bid, you will only be charged 0.01 more than the current rate.
Maximum CPM ( Pay per 1000 impressions) - This type of bidding charges a certain amount whenever the ads are viewed by 1000 people on Linkedin.
4. Conversion Tracking - Lastly, you will get the option to set up a conversion tracking for your LinkedIn campaign, which will help in tracking and measuring the actions that people take after clicking on your ads. Conversion tracking is an optional part to set a campaign in Linkedin but is highly valuable for your business. If you choose to set up conversion tracking, click "+ Add conversions", a new window will pop up, where you can name your conversion, choose conversion settings, and decide how you'll track the conversions.
5. Setting up ads - Choose the correct type of Linkedin Ads for your campaign. Click on "Create New ad ''. A pop-up screen will appear on which you'll create the copy for your ad, insert an image, and preview the different layout options.
Some steps that need to be kept in mind before setting up the ads:
Ads image - The image must be of high resolution that going to attract your audience. It must be of 100x100 pixels and uploaded as a .jpg or .png file that is 2MB or smaller.
Ads headline - The heading is the main catchy thing that your audience will see. It cannot be more than 25 characters. Make your heading apt and simple.
Ad description - The description is the body of the ads. It can be up to 75 characters long and should be relevant to the person viewing the ad and the offer or page to which you're sending them.
Destination URL - This is the URL where your audience will go when they click your ad. Always double-check that the URL to see if it is accurate.
Once you are done then click "Create," you will see that you have been redirected back to the previous Campaign Manager screen. From there, you can create more ads and, eventually, review and submit your order
6. Insert Call to Action - Counting a significant CTA inside your ad copy will likewise assist you with improving your advertisement's CTR. Consider requesting people "Download your digital book now," or "Click here for exciting offers" for more conversion rather than writing tons of copies in your ad.