Have you ever thought that how is it possible for an ad to pop up on the internet whenever you are using it or stalking you around the internet?

Well, the answer to your question is quite simple, any website that you serve saves a cookie onto your browser i.e. a string of numbers or letters that forms a unique ID to help website track you and remember you. Cookies play an important role in the world of the internet and make it easy to use.
Cookies allow a website to advertise its product and follow you all over the internet. This happens because cookies enable companies to band together to track every single activity you do online. They have become the center of information for our personal data and activities.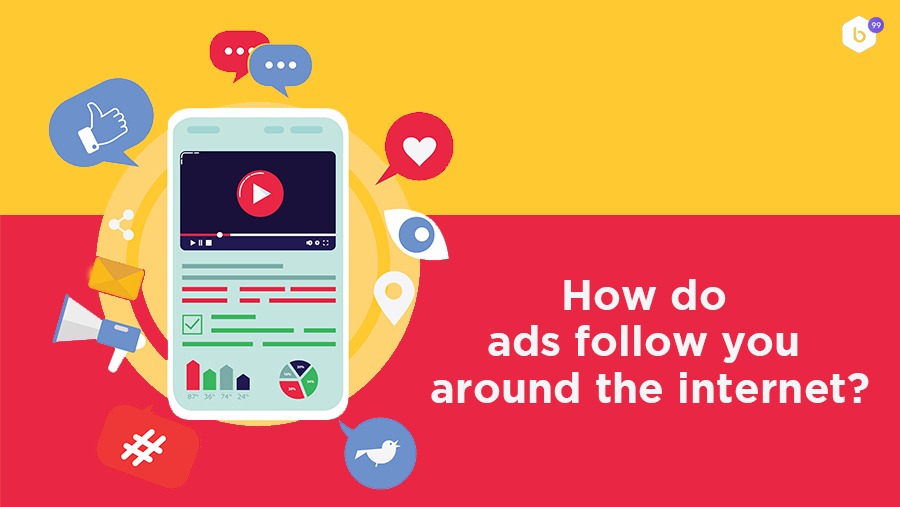 Now, simply imagine that you served an e-commerce website and added some of the items in your cart and logged out of that website. Then to get it you need to login to that particular website every time. But with the help of a cookie, the clicks that you make, or the action that you take on the internet, the site recognizes the unique ID from the cookie that is stored on your browser.and collects all the information i.e. your location, time spent on that site, personal details that you fill in.
Technically the cookie warns the website that you are the same visitor and not a different one to the website.
Types of cookies.
There are 3 types of cookies on the internet:
1. First-party Cookies - A string of numbers or letters that is been stored in your computer by the website in which you are visiting. By default, every Web browser uses first-party cookies. If you want to disable this first-party cookie, then the website will be unable to keep a track of your activities on their site.
2. Second-party cookies - Cookies that are saved on the website and gets transferred from one company to another company to expand its reach via some sort of data partnership
3. Third-party cookies - Cookies that are set by a website other than the one you are currently visiting. For example, your website uses cookies to track your user's activities, now you can ask third parties, for instance, Facebook and Google to show your ads to the target audience they know visited your website last month. This will help increase traffic to your website.
What is Re-Marketing?
Basically the ads that stalk you and pops-up in whichever platform you are in is known as Re-Marketing or Digital banner ads
Ads play an important role in the online world today. The buyers of this system are the brands that want to sell their products online by placing ads for their target audience. There are many platforms to choose from where the ads need to be shown.
Ad marketing is a tool that is being used by the web advertisers to bring potential customers back to their websites after they've left, without putting efforts to search them in search engine optimization. They can simply do this by keeping track of a customer's browsing habits. In this way, companies give customers a second chance at buying their products.
Using Google Ads as Re-Marketing
Now that we have talked about Digital banner ads and how all it works and why does it follows you around the internet, let's understand why do companies opt for google to run their ads.
Google is a sheer platform that dominates the digital marketing world. Google Display Network reaches approximately 90 percent of all web users worldwide. Which such vast user advertisers and web publishers take advantage of google ads for their remarketing campaign.
Utilizing Google Ads, organizations can make promotions that show up on Google search results as well as Google's network of partner sites. What's more, with a Google remarketing effort, organizations can label certain pages of their site that users have visited. This permits them to make a campaign to save significant advertisements as the users go on to various locales.
Google's advertising program isn't beneficial for organizations selling items and administrations, they can be incredibly rewarding for web content distributors. With Google AdSense, web distributers can post advertisements on their sites and net income for each view (called "Pay Per Impression" or "PPI") or each click (called "Pay Per Click" or "PPC").