Social media is a major weapon to create your business online. And if you can strategize it correctly, you'll definitely pave your way to success. Your strategy should be effective hence, keep it unidirectional. Each and every post should serve a purpose.
Well, let's talk about the eight major steps to create a badass social media strategy-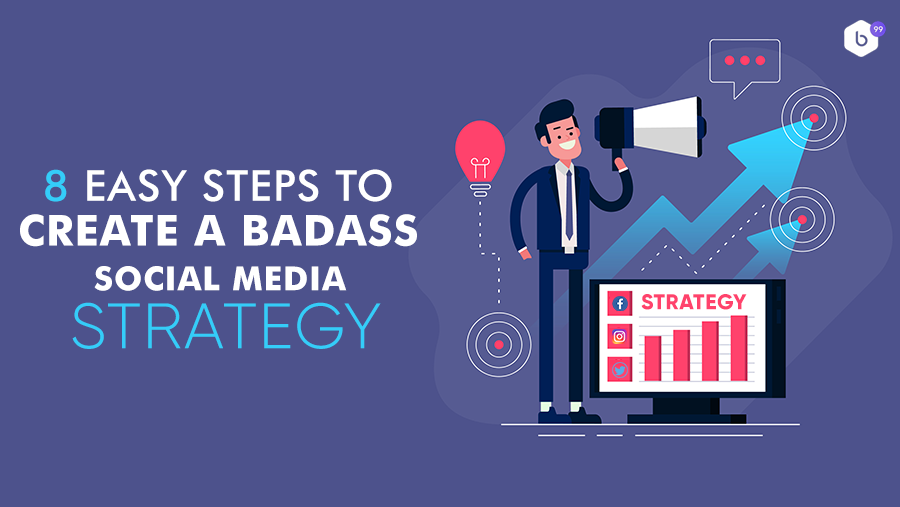 1. Establish your objectives/goals - Remember to keep in mind that your goals should be
Specific
Measurable
Attainable
Relevant
Time-bound
Keep your focus on targets such as leads generated, web referrals, and conversion rate.
2. Know your audience - This is the key step to build a successful social media campaign. According to the product determine your target audience. Create a post in which they can relate to. Analyze the potential of your fans, followers, and customers. Always refer to different analytical websites as an information source.
3. Keep an eye on your competitors - Compare the analytics with your competitors. Get inspired by their posts and try to understand their tone and style. List out where they are lacking behind and focus on that section.
4. Social media tools - Social media is a wide network. Try to understand the industry trends and how one tool differs from the other. Create your posts and blogs which according to that. I'd recommend to create a social media audit & ask yourself rather list the followings-
What's working, and what's not?
Who is connecting with you on social?
Which social media sites does your target market use?
How does your social media presence compare to that of your competitors?
This audit will give you a clear picture of how you should plan your next post or write-up.
5. Set up accounts - Have a clear strategy in mind of which social channel to use and how the strategy is going to differ from the other channel, it's important because not every channel behaves the same way. For example - Mostly clothing businesses emphasize on using facebook while for jewelry, companies opt for Instagram.
When you determine which networks to focus on, it's time to create accounts or improve the existing profiles so they match up to your strategy. Use keywords which can help the traffic to find you. Maintain a presence in every trending social media channels.
6. Find Inspiration - When you go through a social network thoroughly, you'll find its success stories which highlight how some of the popular brands use these tools effectively. You can study their survey results, case studies and use it as a reference.Another way to find inspiration is to ask your fans and followers what do they need more. This is called target marketing, where you focus on the needs of your target audience.
7. Create a content calendar - A very crucial step of forming a successful strategy is to plan accordingly. Create a social media content calendar which will have the list of all your posts to be published in different channels along with the date and time. This will help you to maintain a ratio of the posted purpose like you can follow the 80-20 rule -
80 percent of your posts should inform, educate, or entertain your audience
20 percent can directly promote your brand.
Once you got your calendar sorted, you can schedule the messages in advance rather than updating constantly throughout the day.
8. Implement and Evaluate - Last but not least, once you execute your strategy you'll also need to examine the results. Always keep an eye on your analytics and on your visitors too. You'll find some of the strategies might not be working for you but some are doing exceptionally well. I'd recommend keeping re-evaluating your strategies from time-to-time. Surveys are a great way to determine whether your strategy is working fine or not. Ask your social media followers, email list, and website visitors whether you're meeting their needs and expectations on social media, and what they'd like to see more of. Then make sure to deliver on what they tell you.
In the internet world things keep changing too fast, so make sure you're following the trends and use new tools that might help you strategize with time. And of course, if you need any guidance to strategize your business we're always happy to help you. Ping us on facebook messenger or visit our website for assistance.
Let's create your success story TOGETHER.